Get Up Offa That Thing!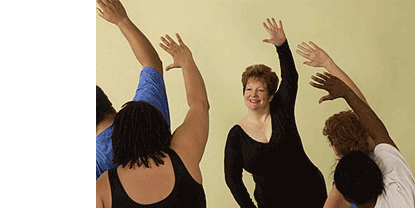 Having received a new fitness video, many people leave their videos sitting on the shelf until they are ready to workout. That may work great for you, or that may be a problem. Waiting until you are ready to workout may cause you to delay getting started ... or never start at all.
You don't have to be ready to workout to get started. You donít have to DO the workout to get started. Instead, I suggest that you fix a nice drink, sit in a comfy chair and WATCH your video first. Yep, just watch before you tell yourself that you are really going to do the exercises. This gives you a chance to see that you really CAN do this workout. This relieves whatever apprehensions you may have about the workout. This gets past inertia. You never know ... you might even have to set down your drink and get up offa that thing and boogie!
I recommend that you include an aerobic workout, a muscle toning, and a stretching in your video library. These three components give you a complete fitness package. With shorter workouts, you can fit them into your day more easily. You can combine your aerobics and your stretch, and you still have a nice length workout. Play with it. Once you have these basics covered, you can add different videos for variety. There are TEN different workouts available at http://www.kellybliss.com/videos.html Also check out the Video section of http://www.PlusSizeYellowPages.com You will find more aerobics, yoga, tai chi, and lots of other fun workouts.
To help you get your video library set up I would like to give you a gift.
I will personally take $10 off any Fitness with Bliss order during the month of February!
Please call me to place your order.
(This offer is only made to those who get this newsletter, not the general public.
This special offer is not even on my web site.)
Go ahead, give me a call. We can select just the right workout for you: 610-394-2547.
----------------------------------
Evening Munchies ...
So, here you are in the evening and all you want to do is eat. You have the "evening munchies". You have tried willpower. That was exhausting. You have tried not buying evening snack food. You made some. You have tried to distract yourself. You were driven to distraction by your cravings for "something".
"Evening munchies" is one of the most frequent scenarios brought up by new clients who are working on building their healthy lifestyle. When we first begin to work together, clients bring with them their decades of dieting experience. There is usually an assumption that the problem is eating too much. Nope. The problem is not eating enough.
My recommendation when you are wrestling with "evening munchies" is to
EAT MORE AND EAT BETTER DURING THE DAY.
I recommend that you make sure to eat breakfast, even if you are not hungry. You can make breakfast very simple, but have some. If you have been skipping breakfast for a long time, you have trained your body to hang on to every bit of food energy possible. Your body will need it to get through the many hours of deprivation all night while you sleep and each morning. For improved balance in your body and your life, it is important that you retrain your body to expect that you will feed yourself, instead depriving yourself on a daily basis. When you eat breakfast in the morning, you body does not need to hang on to store as much food energy as possible. Your body begins to trust that you will be giving it more food energy as it is needed.
Yes, eating breakfast makes you hungry sooner than skipping breakfast and just drinking coffee. Good. Get hungry. Then eat. Eat foods that are nutritious and delicious. Eat a mid-morning snack if needed. Eat lunch. Eat whenever you are hungry. Savor your food. Stop eating when satisfied.
Give yourself QUALITY foods. Choose fruits and vegetables whenever you can. When you eat more often and more nutritious foods during the day, YOU WILL DRASTICALLY REDUCE YOUR EVENING MUNCHIES. No will power needed. Now deprivation. Just follow your appetite and eat well. Try it. You'll like it.
-----------------------------------------
The idea of how to cope with evening munchies comes from many years of working with individuals on how to meet their needs more effectively. I have enjoyed working personally with many of the folks who get this eNewsletter in Self-care Coaching by phone.
If you too would like to get this energizing support for your healthy living and emotional healing, now is the time to let me know. My schedule is beginning to fill up. I want to make sure I have time to talk to you when you need the support. I would be happy to set up your coaching sessions to match your needs and your budget. Call 610-394-2547 or email